SPOILERS IF YOU HAVEN'T WATCHED THEM YET! (If you haven't, then what are you doing reading this post?
WATCH
!)

Apparently, Joey Ritcher (who plays Ron Weasley) told fans that they had a great script in the works for the third installment to the original
A Very Potter Musical
. It didn't take long for both that and its follow-up,A Very Potter Sequel, to become popular. Once Darren Criss (the series' star Harry Potter) said he was going to reunite with the Starkid cast for the musical between Glee and How to Succeed the news spread fast. No other news has come out since, but the future looks very promising!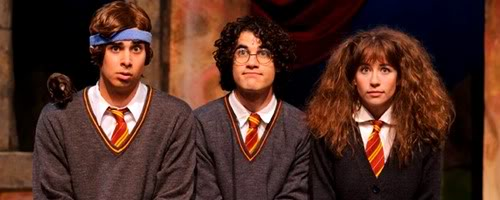 Ron, Harry, and Hermione in A Very Potter Musical
While we wait and anticipate the new installment, let's reminisce about some great moments from the past two musicals!


I have to say, I love musicals and I love Harry Potter. The idea of putting the two together is great in itself, but doing so, and doing a good job is something absolutely brilliant! Darren Criss and all the cast did a wonderful job on both musicals. Making two musicals, but splicing different parts of all the books into them was also a wonderful idea. It was creative and worked really well. The songs were also done well and everyone can actually sing (so that's a good bonus).

They changed a lot of characters, but they did so very tastefully (except for maybe all that making fun or Hermione, I have to admit, that kind of gets on my nerves). They made Malfoy's character someone who likes to roll around on the floor a lot. Maybe it's because I like stupid humor (sometimes), but I think regardless this is one of the most hilarious aspects to the first musical. Malfoy also has a secret crush on Hermione and so does Ron, although they both tease her tirelessly.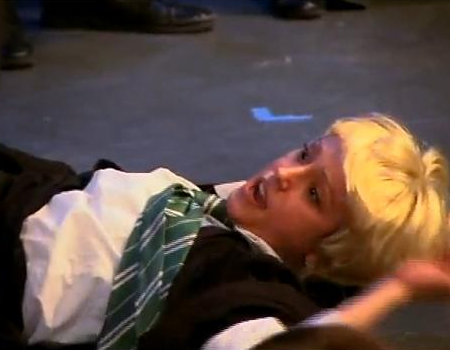 Malfoy rolls on the floor. He's probably thinking about Pigfarts. It's on Mars.
Dumbledore's obsession with Zac Efron is so hilarious that I can't even put it into words. (After being in a production of High School Musical a couple years ago, I got a little obsessed. It happens. Why don't you try being in a musical? No matter what it is, you'll fall for it, I guarantee!) And then, of course, there's Quirrell's and Voldemort's relationship. Oh, they are so cute together! Don't you just love a good bromance?
So adorable! They never did go roller skating did they?
The time turner in A Very Potter Sequel, you know, I always wondered about that. If wizards always had time turners, then why didn't they just go back in time before Voldemort made chaos? Duh, wizarding world! Aside from that, my favorite character in the two installments has to be Umbridge. Joe Walker (Who played Voldemort in the previous musical and who plays Umbridge in the sequel) has enough muscle to make this role really humorous. Umbridge is basically perceived as a steroid crazed macho woman. That's pretty awesome in my opinion. And of course, in terms of romance, we have Umbridge and Dumbledore. You know, I can't quite remember, but I do believe Dumbledore thinks Umbridge is a man? Is that right? And we never do quite figure it out do we?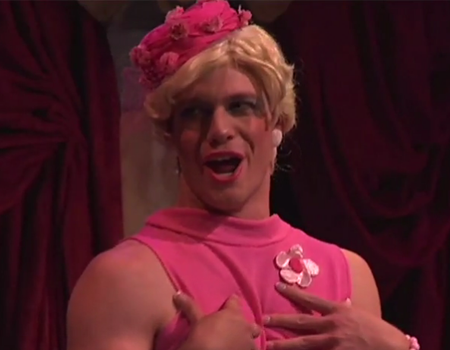 The music is wonderful, if you don't like Harry Potter, at least look up some of the songs (which are both brilliantly composed and sung)! Just looking over some of the songs on my iPod now, it looks like I have Granger Danger as the most played and then there's Voldemort is Goin' Down, Harry Freakin' Potter, etc. following that. I'd recommend downloading most of the songs onto your mp3 devices in the future. Speaking of which, I still need to do that!

Whether you've watched one, two, or none of the musicals, it's something I'd recommend you do again or for the first time! It's most certainly well worth your time. So, while we await the next installment, get to watching and listening!