Whenever I read a book and find out they're making it into a movie, at first, I'm pretty excited. Once I let the idea digest a bit, I realize how terrified I actually am of the results. The movie industry just doesn't seem to know what it's doing when it comes to these types of movies. If they put in everything it would be way too long, I get that. Sometimes certain things don't transfer so well to the big screen, I get that. But that doesn't give them any right to totally butcher the excellent storyline and characters.




Now Eragon, it is probably one of the worst movies I have ever seen, even excluding my reader's point of view all together. Honestly, who can feel okay about a movie that cuts the complete middle half out of a great book in exchange for some CG action sequences? I'm certainly not. Someone needs to shove a book in one of the industries faces. It might do them some good. With The Hunger Games, The Help, and One for the Money (The first in the Stephanie Plum series) movies coming out soon, they better shape up or I'm going to continue to feel sourly disappointed towards the industry when it comes to these kinds of movies.

Just recently they've released the casting list for The Hunger Games (By Suzanne Collins).The trilogy takes place in a kind of futuristic Earth, in which twelve districts (once thirteen, now destroyed by the government) are controlled by the Capital in the post-apocalyptic country of Panem. Each district must present a tribute, one male and one female, at what is called the reaping. Those chosen must fight to the death, only one can remain.


Release Date: March 23rd, 2012
If you didn't already know, Jennifer Lawrence will be playing Katniss Everdeen, the trilogies heroine. I wasn't so hot on the idea in the beginning, being an avid fan myself; I felt she was a bit too old. Although, I've just recently watched Winter's Bone and was very happy with her performance in it; it was a magnificent movie. I see why she got an Oscar nomination for it.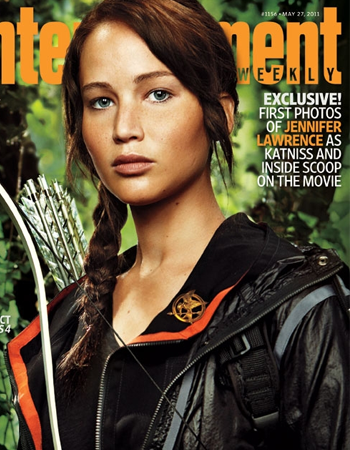 Jennifer Lawerence makes a pretty awesome Katniss, actually.
Apparently she was really stuck on doing independent films, but I'm glad she moved out to this, her attitude and the way her personality really fits Katniss should work nicely. (According to
Entertainment
, she's a lot like Katniss, in that she doesn't seem to care too much about dresses, but stressed over the importance of appropriately functioning gear for when she enters the arena to do her own stunts). She actually looks pretty cool in the
Entertainment
released photo. (She doesn't look weird with brown hair or anything.) I just wish they could have given us more than one photo, it seemed a little lame to me.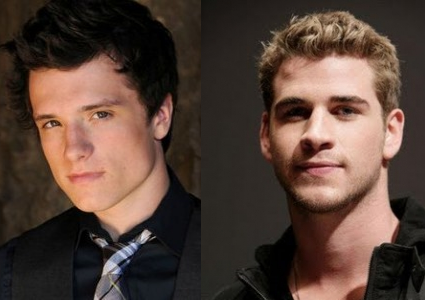 Peeta and Gale. They look kind of old, maybe they just matured at an early age.
Gale (Liam Hemsworth) and Peeta (Josh Hutcherson) seem to fit their roles to me, but they're definitely too old as well, and that parts not so good. I'm pretty sure that the movie makers don't know what it means to be a good actor in an age appropriate role. In most cases anyways, older actors tend to play characters younger than themselves.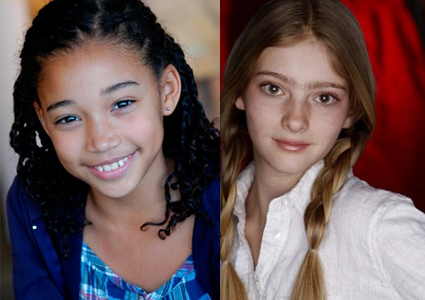 Rue and Prim look quite age appropriate. Let's hope their acting is just as good.
There are exceptions, but it would be nice to see an actual high school aged kid play a high schooler, must people playing highschoolers are definitely at least college age. On the other hand, additional important characters, like Rue (Amandla Stenberg) and Prim (Willow Shields), look age appropriate. In fact, they look very well casted.
For more specific information, look out for a post that is
Hunger Games
soon!
Release Date: August 12th, 2011
I should have picked up a copy of
The Help
(By Kathryn Stockett) as soon as it hit bookstores. But, I'm kind of cheap, and I don't like spending money. As soon as there wasn't a long wait at the library (and with recommendation from my grandmother, of course) I picked it up. As soon as I read the first page, I was hooked. Her dialect is brilliant. I feel in love with the characters, and I'll be darned if they don't live up to my expectations for the movie.
Skeeter is a woman growing up in the 1960s. In her home town of Jackson, Mississippi there is definitely at lot of racism, and a lot of Help (black woman who take care of white woman's children for them and cook and clean. A lot like a maid/babysitter). She always wanted to be a writer. Even though a lot of her friends seem to be very racist (Hilly Holbrook, especially) she herself isn't. She wants to write about the Helps' experiences. Aibileen, one of her friend's housekeepers, is the first to warm up to the idea. Getting more support is the hard part and along the way she has a lot of other hardships to overcome.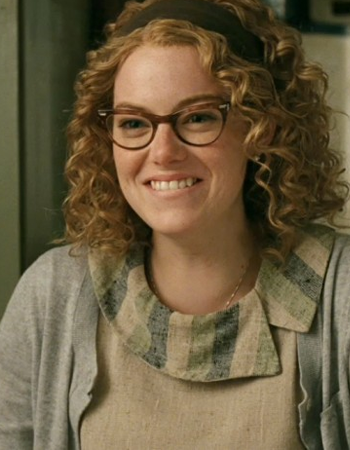 Emma Stone's "husky voice" might just work.
Skeeter is played by Emma Stone. At first I was certainly skeptical about this. My immediate thought was "She's too young…and certainly not how I pictured Skeeter!" Yet, the more I look at the pictures of her for the movie I realize that she actually seems to fit the role quite well. Her signature "husky voice" actually seems very right to me.
I don't know if I could have picked these Help any better myself.
I don't know the actresses' playing Aibileen (Viola Davis) or Minny (Octavia Spencer), but they seem to fit well enough. Aibileen looks pretty much age appropriate and Minny sassy enough.
Expect more
The Help
posts soon!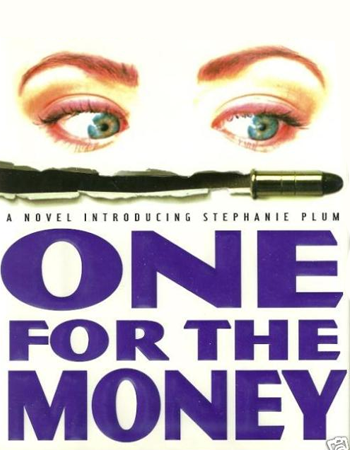 Release Date: January 27th, 2011
I feel so late when it comes to the
Stephanie Plum
series (By Janet Evanovich), but even starting with the fourth one I fell right into Evanovich's realistic and exciting
Stephanie Plum
series. (Read the first one in record time, and am currently eating up the second).
One for the Money
is the first in her bounty hunter series. Stephanie Plum is just looking for a job after she gets laid off from her lingerie saleswoman position and kind of tumbles into the role of bounty hunter. She's after Joseph Morelli, a cop who is suspected of murder. Also the guy who gets any girl he wants, including Stephanie. When she was younger, they just kind of ended up there by the cooler, right? With a lot of riveting action and realistic sass, Stephanie fights the heat of the Bronx with the help of her pepper spray and gets attempts to get to the bottom of what is a bigger mystery then it initially seemed.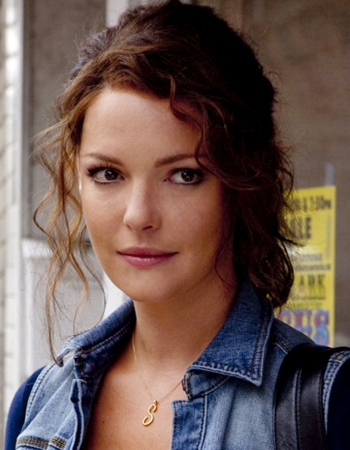 Stephanie Plum, armed and ready with pepper spray.
Katherine Heigl will be playing Stephanie. I don't know how I feel about this. I have no problem with Heigl, I just feel like she's a little slender for the role. Maybe it's just me, but Stephanie always seems to be eating. Of course, what are you going to do, it's Hollywood, hot and slim is basically what you're going to get. (Don't get me wrong, Stephanie specifically said she was about 130 pounds, but still).
Douchey and nice looking all in one, seems to work!
Joe Morelli (Jason O'Mara) looks just about perfect. He looks pretty much like a douche in his picture anyway. Morelli isn't always a jerk, but for the most part, it fits, and he looks nice enough for those times when he's actually pretty decent, so it works.
Two Badasses reporting and ready to bounty hunt!
I know Lula (Sherri Shepherd) doesn't play as big of a part in the first movie as she does in later installments, but she looks great to me. Her character is pretty bitchin', in my opinion. They made a good choice, I think. Ranger (Daniel Sunjata) looks about as badass as he should, so I'm good with that too.
More
One for the Money
posts coming soon!